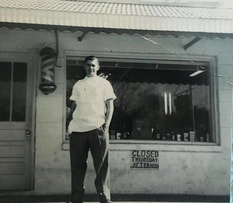 A Local Original Since 1959…
Vestavia Barber Shop is a traditional, family friendly barbershop that has served Vestavia and broader Birmingham since 1959. We are now in our third-generation, veteran owned, and proudly serving our community by striving to deliver quality haircuts at a reasonable price.
In 1959, Mr. Jack Braswell and Mr. Ted Bedisole opened the doors of Vestavia Barber Shop. In 1974, Adam Austin, who previously owned Crestwood Barber Shop, came over the mountain and purchased the shop from the original owners. In 1978, Adam was joined by his daughter, Donna, and Randy McArthur, who operated the barber school Donna attended. In about ten years they had steadily outgrown the old shop and moved to the current location next to Mark's Outdoors in 1989. In 2010, Adam's granddaughter, Stevie, joined the team to keep the tradition going.
Decades of experience, family friendly atmosphere, and an old-fashioned traditional flavor keeps Vestavia Barber Shop a local favorite, a place where we truly get to know you by name. Please come see us and support a local small business. Walk-ins are welcome or call to make your appointment today: 205-823-1974.